Diese Veranstaltung hat bereits stattgefunden.
Brüssel – Esplanade Vrije Universiteit Brussel
1. April 2019 | 12:30

–

17:00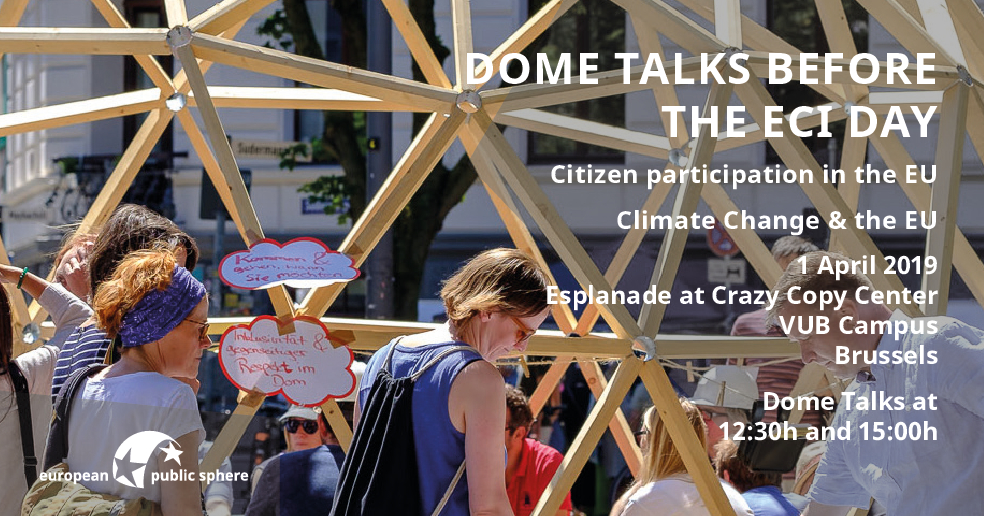 Diese Seite ist nur auf Niederländisch, Englisch und Französisch verfügbar.
— NEDERLANDS —
Op 1 april komt de Europe Dome naar Brussel, vlak voor 2 april, een zeer bijzondere dag voor democratie. Het is de dag van het Europese burgerinitiatief, dat Democracy International heeft helpen lanceren. Dit instrument geeft burgers de mogelijkheid om veranderingen in de wetgeving op Europese niveau te stimuleren. En wat is een betere manier om deze dag te vieren dan met een open Dome-Talk? Ook dit jaar, kort voor de hervorming van de ECI, maken we ons daarom sterk voor meer burgerparticipatie. En dat doen we midden in het hart van de Europastad Brussel. Kom ook naar de Esplanade bij het Crazy Copy Centre op de VUB Campus en doe mee!
Kom ook en discussiëer mee over de EU. Waar liggen de problemen? Wat willen we veranderen? Wat werkt wel al goed?
Er zijn twee Dome Talks gedurende de dag.
12:30 uur Burgerparticipatie in de EU
15:00 uur Klimaatverandering & de EU
Je kunt natuurlijk ook later, tijdens het gesprek, aanschuiven, voor tien minuten of voor een uur. Iedereen is welkom en elke mening telt!
— ENGLISH —
The 1st of April, the Europe Dome will come to Brussels, just before the 2nd of April, a very special day for democracy. It is the day of the European Citizens' Initiative (ECI), whose implementation Democracy International was deeply involved in. This instrument gives citizens the opportunity to stimulate changes in legislation on the EU level. And what is a better way to celebrate this day than with a collective Dome Talk? Also this year, shortly before the reform of the ECI, we stand up for more citizens participation. And we do this right in the heart of the Europe-city Brussels. Come to the Esplanade at the Crazy Copy Centre at the VUB Campus and join us!
Discuss along about the EU. What are the problems we encounter? What do we want to change? And what does work well already? You can join the talks for ten minutes or for an hour. Everyone is welcome and every opinion counts!
There will be two Dome Talks during the day.
Starting times:
12:30h Citizen Participation in the EU
15:00h Climate change and the EU
It is of course also possible to join later, when the talks have already started.
— FRANÇAIS —
Le 1er avril, le Europe Dome viendra à Bruxelles, juste avant le 2ème avril, un jour très exceptionnel pour la démocratie. C'est le jour de l'Initiative citoyenne européenne, que a été lancer de la part de « Democracy International » en 2007. Cet instrument donne aux citoyens la possibilité de stimuler des changements législatifs au niveau européen a travers de leurs signatures. Quelle meilleure façon de célébrer cette journée particulière qu'en discutant ensemble sous le dôme ? Pour cela, peu avons la reforme de l'initiative citoyenne européenne, nous travaillons alors d'arrache pieds pour une plus grande participation des citoyens. Et ceci nous faisons au cœur de l'Union Européenne, à Bruxelles. Venez à l'Esplanade devant le Crazy Copy Centre dans le VUB Campus et rejoignez-nous.
Discutez avec nous aux thèmes de l'UE. Quels sont les problèmes que nous rencontrons? Que voulons-nous changer? Et qu'est-ce que fonctionne déjà bien? Vous pouvez nous joindre pour dix minutes ou pour une heure – c'est votre choix. Tout le monde est le bienvenu et chaque opinion compte!
Il y aura deux heures pendant la journée.
Heures de début :
12:30h Participation citoyenne dans l'UE
15:00h Le changement climatique et l'UE
Il est bien sûr également possible d'adhérer plus tard, lorsque les discussions ont déjà commencé.