Krzyżowa – Authoring European History
Krzyżowa | Our stop in Krzyżowa was a very special one to me. 3 years ago still as a student, I had taken part in a workshop to create a multi-media guide for the outdoor exhibition "Mut und Versöhnung" (courage and reconciliation) with 5 other Polish and German people… and thus experienced the former Kreisau and its historical role in Krzyżowa. Now, we wanted to contribute something to courage and reconciliation through the European Public Sphere ourselves. That's why we invited youth groups from Germany and Poland to the start of our Cześć Polska – 1785 km of Poland tour. This tour has been supported by the GLS Treuhand e.V.
Krzyżowa with its approx. 250 inhabitants is a tiny village in Silesia. Surrounded by hilly fields, woods and a neighbouring village of about the same size, it wonderfully reflects the idyll and mystery of rural southern Poland. Time, as always, is relative and here it seems to pass at a leisurely pace.
All the more astonishing is the role the place plays in our European history. In the middle of the village on a now splendidly restored estate the Kreisauer Kreis met several times during the 2nd World War. This resistance group consisting of representatives of the former people's parties before NSDAP times, the nobility, and the Catholic and Protestant churches reflected in their meetings on a societal order following the end of the Nazi regime – high treason therefore, which ultimately led to the death of many of its members.
As if that weren't enough, the same by then run down estate became the scene of the German-Polish Reconciliation Mass with Prime Minister Mazowiecki and Chancellor Kohl in 1989, shortly after the fall of the Berlin Wall. Who doesn't remember the famous image of them hugging?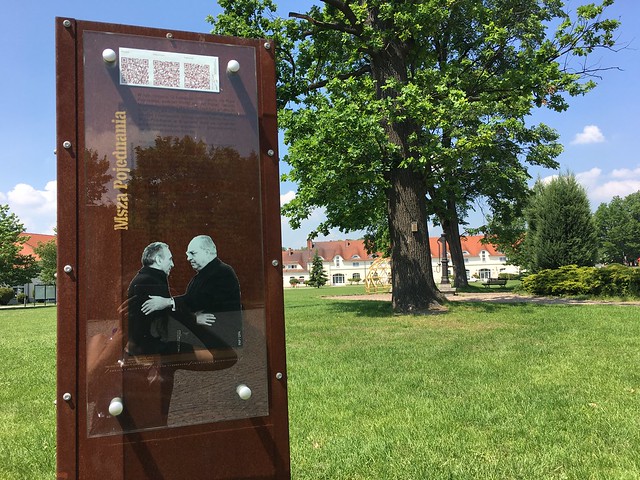 The place of 1989's reconciliation mass
We are the next generation. We should definitely be able to vote because it's our future, not theirs. And I think we really need to work on this because later, this is again about climate change, this is our world and we want to live in it. Not in a broken world but something we like to live in and a safe place. And if the elderly are voting on something and we can't do anything about it, what is it for us then? We should be able to chose what our futures look like.
And even today Krzyżowa is a place of German-Polish reconciliation, exchange and European history. In addition to more than one million tourists per year, the estate today regularly hosts youth groups from both countries and conducts workshops for multipliers.
Of course, the European Public Sphere couldn't miss such an opportunity on its way through Poland! Fortunately, the employees of the Krzyżowa Foundation agreed and made us part of two school trips in no time at all. The first one was a 9th grade of the Heinrich-Böll-Schule Rodgau, a comprehensive school from Hessen, the second one a joint student exchange of a Polish and a German school from Zabrze (PL) and Wassenberg (DE), respectively.
Having arrived on th eestate on late Tuesday evening, we were excited to start our first Dome Talk on Wednesday afternoon. Before, we had mastered the construction on the meadow in the center of the area with only 2 people for the first time – if one does not count the watchful tomcat, which remained with us from beginning to end.
With the participants, we wanted to talk about resistance and commitment in the historic place. Still a little tired from the trip to Auschwitz the day before, the conversation needed some time to get up to speed. Probably also the weather with its 25 degrees and bright sunshine did add a little to that but the ice was quickly broken.
Our first Dome Talk in Krzyżowa
Our second Dome Talk in Krzyżowa
Some of the young people talked about their volunteer work, the opportunities for co-determination at school and the dangers of growing right-wing pressure. Most of them still had the shocking pictures of Auschwitz in their heads. Everybody agreed that something like this should never happen again and that one had to get active oneself. Everybody was wide awake when we asked for a wish to the EU. The consensus: co-determination and the opportunity to independently take responsibility!
The wishes were similar the next day with our second, Polish-German group, the student exchange Zabrze – Wassenberg with participants between 12 and 15 years.
Ignorance of the existing elite, paternalism, disparagement, all struggles in the life of young people. Here, too, the topics of climate protection and Article 13 were on the agenda, especially on the German side. A lively discussion developed on the subject of upload filters. It turned out that these topics, even Fridays For Future, are hardly part of the public debate in Poland.
Meanwhile, the Polish pupils explained the problems of educational reform in Poland and the lack of school places in cities.
Video of our Dome Talks in Krzyżowa
Entering Krzyżowa village
It turned out that all participants were able to gain first experiences with democratic procedures in their schools through the class, school and pupil representation system. However only at school.
All in all, our stop in Krzyżowa was a very nice one. Participants' feedback was very positive, they seemed to have enjoyed the free discussion, the exchange under the dome.
One of the more active participants told us that thanks to the discussion she had asked herself if she  weren't fit enough for an internship in the field of EU policy and what our impression was. Fingers crossed it will work out and we're happy to have made that contribution.
The stop in Krzyżowa also showed that it's time for an appeal. Because the situation of the youth is a tricky one. Also during later discussions of the Poland tour it turned out again and again that many young people are truly annoyed. They bring ideas and visions with them but are left out and do not have the opportunity to make a political contribution through official channels under 18. At the same time, according to our participants, the adult or political world does not take them and their activism seriously. They are busy with climate protection, Article 13, a fairer world free of racism, even beyond school. They take to the streets just to be laughed about, accused of wanting to skip school or even get paid for their efforts. No wonder, then, that political frustration starts early.
Finally, there is still time to express our admiration. Our second conversation took place almost exclusively in English. Especially the Polish side had a hard time here, because the European Public Sphere team was able to help out with a quick translation of German. Chapeau!
Some impressions from our Dome Event