Brussel – Esplanade Vrije Universiteit Brussel
1. April 2019 | 12:30

–

17:00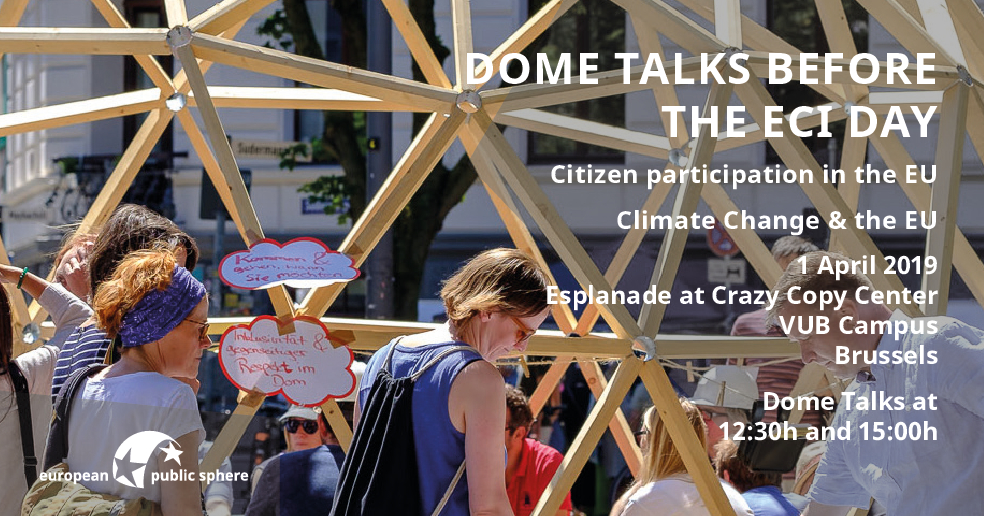 On the 1st of April, the Europe Dome will come to Brussels, just before a very special day for democracy. The 2nd of April is the day of the European Citizens' Initiative (ECI), whose implementation and revision work Democracy International was deeply involved in. This instrument gives citizens the opportunity to set the legislative agenda of the EU. And what is a better way to celebrate this day than with a collective Dome Talk on citizens' participation right in the heart of the European capital of Brussels? Come to the Esplanade at the Crazy Copy Centre at the VUB Campus and join us!
Join and discuss the EU with us! What are the problems we encounter? What do we want to change? And what works well already? Everyone is welcome and every opinion is given a voice!
There will be two Dome Talks during the day.
Schedule:
12:30-14:00 Citizens' participation in the EU
15:00-16:30 Climate change and the EU
Feel free to join at any time!